MediaFLO hires senior staff but will it turn a profit?
MediaFLO seems to be taking the approach of spend to gain success as it has just hired new staff all the way up to Senior Vice President. MediaFLO have brought in industrial management experience from Viewsonic and ABC to hopefully boost their profits via advertising and sales, their programming and marketing roles.
SVP of programming and advertising goes to Jonathan Barzilay (ABC), and SVP of sales and marketing goes to Matt Milne (Viewsonic). So hopefully these new appointments will slot in nicely with the impending AT&T launch, because if you need to squeeze some success out of a media service with attached monthly fee you're going to need content.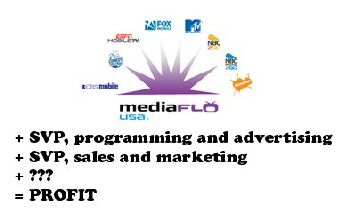 Source — moconews