Touchscreen Mobile TV DH02 handset revealed by Motorola
Over in the U.S. Motorola has just unveiled their latest issue of their Mobile TV device known as the Mobile TV DH02, which is a personalised TV with navigation and multimedia entertainment encompassed in a touch-screen handset.
Continuing on from Motorola's Mobile TV DH01 which was reissued as CES along with the Mobile TV DH01n previewed at this year's Mobile World Congress, the Mobile TV DH02 now encompasses HSDPA along with GPRS. The TV side of these handsets are provided via DVB-H TV tuner, which is the mobile standard for Europe, and with PVR capabilities which allow timeshift, frame gabbing and live pause. The GPS side brings you points of interest, voice activated directions, Tele Atlas mapping, and hands-free calls to points of interest.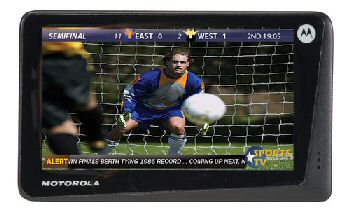 At present Motorola has not revealed too much except for the Mobile TV H02's WQVGA, offers video playback at 25 frames per second, and has Bluetooth connectivity. More on this one as and when we hear.
Source — pocket-lint