Sony Ericsson W660i Black with FREE Nintendo Wii + 19 Inch LCD HD TV
The Sony Ericsson W660i is black in colour and is packed with a host of features, such as 3G and Nicam Stereo sound. The phone is both sporty and slick which is perfect for the young people of today.
The Sony Ericsson W660i comes with 512MB Sony Memory Stick Micro, however this can be easily upgraded if you want to store more music or photos on your mobile phone.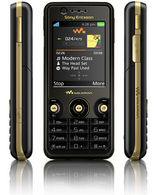 Specifications:
– 2 Megapixel Camera
– 2.5 Digital Zoom
– 262k TFT Colour Screen (176 x 220 Pixels)
– 360 Hours Standby
– 3D Games
– 3G
– Alarm Clock
– Autofocus
– Bluetooth® Stereo (A2DP)
– FM Radio RDS
– GPRS
– Javaâ"¢ Games
– Macromedia Flash Lite
– Mega Bass
– MMS (Multimedia Messaging)
– MP3 & AAC Tones
– MusicDJ
– Push Email
– SMS (Text Messaging)
– Vibrating Alert
– Video Player
– VideoDJ
– Walkman® Music Player
Weight & Size:
– 93 g
– 102 x 46 x 14.5 mm
To be able to get your FREE Sony Ericsson W660i Black as well as the Nintendo Wii and 19 Inch HD Ready TV, Orange have a choice of different tariffs to choose from. Visit: The Link