FREE Nokia 6500 Classic from T-Mobile
T-Mobile is offering a fantastic deal on the sleek looking Nokia 6500 Classic. Firstly the phone is FREE and secondly you will get £5 a month of your Tariff. The Nokia 6500 Classic is a 3G phone which helps you access the internet fast by using web'n'walk.
The mobile has a 2 megapixel camera, however although this is low it performs much better than some 3 megapixels phones I have used. The handset also comes with 1GB memory which is great for storing your music files and images.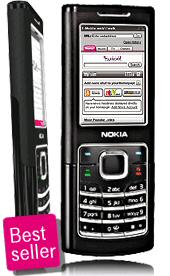 Specifications:
– 16m color TFT, QVGA (240x320pixel) resolution
– 1GB Memory
– 2 Megapixel Camera
– Bluetooth
– GPRS/EDGE/WCDMA
– GSM
– Java
– MMS/SMS
– Polyphonic
– Size 110mm x 45mm x 9.5mm
– Up to 12.5 days standby
– Up to 5.5 hours talk time
T-Mobile is offering the Nokia 6500 Classic for free and will only cost you £15 a month instead of the usual £20. You will have the choice of 170 minutes or 370 texts per month, or a mix of the two. Visit: T-Mobile.co.uk