Laser based head-mounted display patent app by Apple
Ok so head-mounted displays are not really anything new, nor is the prospect of displaying content via a mobile handset a few centimetres from your eyes; however, Apple have a new patented application for a laser based headset which lightens the load by separating the "light engine" from the head-mounted goggle style display.
"A user simply plugs their handheld video player such as the iPod manufactured by Apple Computer of Cupertino, Calif, into the compact laser engine attached to their belt, and places the headset on their head. The user then selects a video to be played at the handheld video player (viewing through transparent display elements)."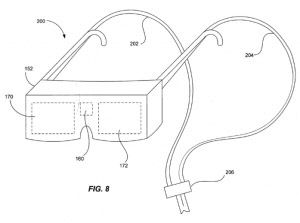 This new head-mounted display, when not being used can also act as sunglasses or even normal glasses as no video or image is projected onto the display. Wouldn't it be great to stroll around with a heads-up visual of say Google Maps or an Apple iPhone RSS feed? Although to be honest, judging by the image, Apple would certainly need to go a long way in the fashion stakes to really pull this one off!
Source — macrumors