Alpine Launch eX-10 Bluetooth for iPod and Mobile Phones
Alpine announced the launch of an advanced iPod controller with Bluetooth capabilities, the eX-10 which enables the user to connect their iPod to any car stereo and allowing total control thanks to its FM transmitter which broadcasts the signal from iPod to car stereo unit.
Pretty standard so far right? However, what may appeal is the eX-10's built-in Bluetooth which also offers the user hands-free option for Bluetooth enabled mobile handsets; it also supplies streaming music playback with compatible headphones and caller number display.
The eX-10 is powered by the in-car cigarette light jack and plugs directly into the iPod with the cable that's provided. Alpine says it's easy to set up and offers colour display and 3 differing view modes including album artwork.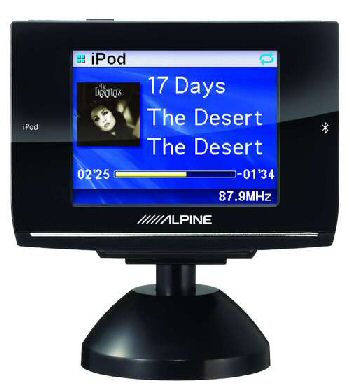 In Alpine's words the features are, full speed connection all iPod models with dock connector, Built-in high quality FM transmitter and modulator, 2.2-inch high-resolution TFT display, Quick Search, Works with any original equipment or aftermarket car radio, Album artwork display, Built-in Bluetooth module for hands-free phone operation, Three viewing modes for iPod playback, Works with any original equipment or aftermarket car radio, Compatible with many Bluetooth enabled mobile phones, Phonebook access, Caller ID display, Caller's voice heard through vehicle speakers, Included wireless remote control, wiring harness, power adapters for cigarette lighter socket and microphone, AUX output (mini-jack), Bluetooth Audio Streaming Ready.
The Alpine eX-10 retails at £149.99, a tad steep but if it does what Alpine reckons it does it may be worth the cash.
Source — alpine