Another bunch of rumours on the next-gen Apple 3G iPhone
Yes they keep on coming, yet another rumour. A report from LeMatin.ch states Apple is bringing their Apple iPhone to Switzerland via Swisscom sometime this summer, and along with said rumour is speculation that the Swiss next-gen Apple iPhone will be carrying not only 3G UMTS/HSDPA data connectivity, but also has video conferencing, Mobile TV, and GPS!!
As we all know Apple has been shoving out the iPhone across the globe and been pushing and striving to make deals happen. This in mind it's no real surprise Switzerland would sooner or later be gaining the Apple iPhone. What's more we have heard previous rumours the next-gen iPhone will sport true GPS receiver along with video conferencing due to its front facing camera; however the main news here is the mention of some type of Mobile TV standard on the Apple 3G iPhone.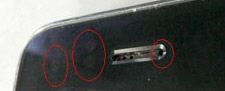 Although I suspect Mobile TV won't make deals or the lack of break deals with Apple 3G iPhone hopefuls, but it would be a little bonus. However if the Apple 3G iPhone launches minus GPS most will be stunned while the lack of Mobile TV won't really make the difference to most.
Source — macrumors