Christian Dior Fashion Designer Phone Unveils Friday 16th May 2008
Oh yes another high fashion designer phone will be unveiled, we have had big fashion names enter the mobile phone market already such a Gucci, Prada, Armani etc and now we have Christian Dior.
It seems all the big fashion names want a piece of the action, thanks to Engadget they have some information of the all new Christian Dior fashion designer phone being unveiled Friday 16th May 2008, we as well as everyone else has little information on this new phone and all we know is the unveiling will happen this Friday. Judging by the picture from Engadget shown below the Christian Dior handset is a flip phone design and pretty slim, it appears to have swarovski crystals or diamonds along the hinge and on the top cover, the keypad itself looks level and flush. What we like is the fact this phone will come with a remote control that accompanies the phone, this control will obviously work for Bluetooth music listening.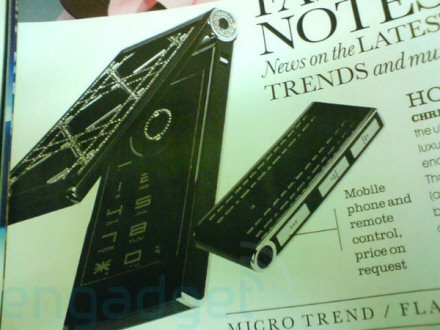 We will let you know more as soon as we find out about the details and specifications, it is said that the Christian Dior Fashion Designer Phone will go on sale around about two weeks after this Friday's unveiling and the price will be on request.
Source — Engadget Mobile