Print pictures straight from your mobile phone with Nokia XpressPrint
Nokia has now brought a new service to their customers; Nokia customers can now print picture gifts and photos direct from their Nokia mobile phone via the new Nokia XpressPrint service which is provided by CeWe Color.
Nokia users can order their best picture directly from their compatible Nokia Nseries mobile phone and as an extra bonus the user's first ten prints are absolutely free; otherwise a user can go to www, nokia.cewedigital.com to print photo books, photos, and photo gifts straight from the website.
A promise from CeWe Color photo printing is the opportunity to print your favourite photos which have been taken on your mobile phone all at the touch of a button. The users photos are then posted to the address of your choice, and anywhere in Europe and are delivered within three days.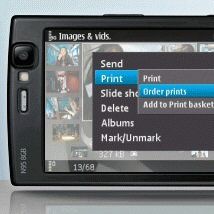 All a Nokia user need to do to take advantage of the CeWe Color service is to just download and install the latest version of the Nokia XpressPrint application onto your compatible Nokia Nseries mobile phone. Next simply select the picture you wish to have printed, specify quantity required, alter the settings of the image such as colour and cropping, and then you are all set and good to go.
Using the CeWe Color service a user can also order their picture printed on a wide range of gift items and products which include greetings cards, t-shirts and mugs, items purchased will then be delivered direct to the user's home or to a friend, or to anywhere they specify. CeWe Service prices begin at only eight pence per digital photo, while a photo mug costs around £6.75.
Source — Nokia CeWe Digital