Nokia XpressMusic 5310 mobile phone goes to T-Mobile
As probably expected, and as T-Mobile is no stranger to Nokia's XpressMusic series of music mobile phones, the tradition continues with T-Mobile gaining the Nokia XpressMusic 5310. The Nokia XpressMusic is of a colourful candy-bar design with a fairly solid "street cred" behind it as a viable music player.
The Nokia XpressMusic has a svelte 9.9mm body, microSD slot, and real 3.5mm jack for the headphones of your choice. The display is 2.2 inch QVGA 240×320 resolution, 2 megapixel camera, both obviously very handy for entertainment, and EDGE radio, is tri-band 850/1800/1900 MHz GSM, GPRS, and measures 1.76 x 4.09 x 0.39inches with a weight of 3 ounces.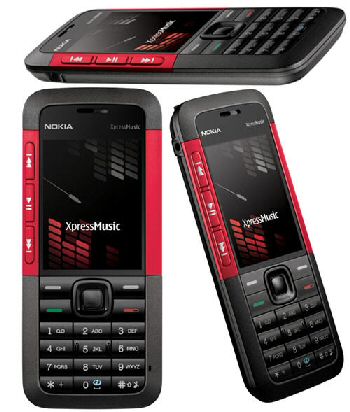 The Nokia XpressMusic also includes some useful applications such as: Yahoo! Go, Alarm clock, Calendar, To-do list, Notes, Calculator, Countdown timer, World Clock and Stopwatch. The menu is fully customizable and you can designate any MP3, MIDI or AAC file as ringtone. Nokia's integrated browser didn't change also, but you may wish to use Opera Mini for faster and smoother browsing.
The Nokia XpressMusic on T-Mobile will cost $49.99 on a two year contract beginning May 28th, and is available in black with a choice of orange, purple or red trim.
Source — engadgetmobile