iPhone 2.0 Firmware: Microsoft Office support, Word, Excel, and PowerPoint and more
The new Apple iPhone 2.0 Firmware not only includes Microsoft Office support, Word, Excel, and PowerPoint but also has the best email on a mobile phone, up to the minute calendar, more powerful contacts, desktop class web browsing, enterprise applications, smarter phone features and more for business. We will show you below what each one can do.
This is what Apple Say –
What makes iPhone a great business phone? Simple. The same features that make iPhone a revolutionary mobile device. And now with iPhone 2.0 software, iPhone does even more for your enterprise. It supports Microsoft Exchange ActiveSync, delivering push email, calendar, and contacts. And it gives mobile users secure access to corporate resources with Cisco IPSec VPN and network services with WPA2 Enterprise and 802.1X authentication.
Best email on a mobile device.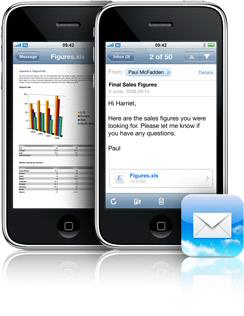 Email on iPhone offers a viewing experience unlike any other mobile device. Its rich HTML format means email looks and acts like email on your computer. With new support for iWork, as well as PDF, JPEG, and Microsoft Word, Excel, and PowerPoint, attachments can be viewed exactly as they were designed to. Users can even zoom in on important information with the tap of a finger. And now that iPhone has built-in support for Microsoft Exchange ActiveSync, users get all the benefits of push email.
Up-to-the-minute calendar.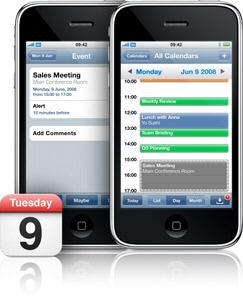 With its Multi-Touch interface, no other mobile calendar application is as intuitive or simple to use. Tap to accept or decline a meeting invitation. Tap again to see who's attending, check scheduling conflicts, review the agenda, or add alerts. Colour coding makes calendar entries easy to organise and view at a glance. And push calendar and integrated support for time zones means users can stay up to date no matter where their business takes them.
More powerful contacts.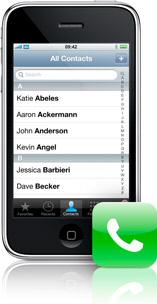 Finding contacts on iPhone is as simple as scrolling your contact list or using the search feature. Add or change a contact and it updates everywhere automatically. But what really makes Contacts ideal for business is its seamless integration with features such as Maps, Safari, and SMS. Find meeting locations using Maps with GPS. Get directions and call directly from map listings to confirm. Add vCards received via email. Look up contacts faster with search support for companywide Global Address Lists (GAL). And with push contacts on iPhone, contact lists are always up to date.
Desktop-class web browsing.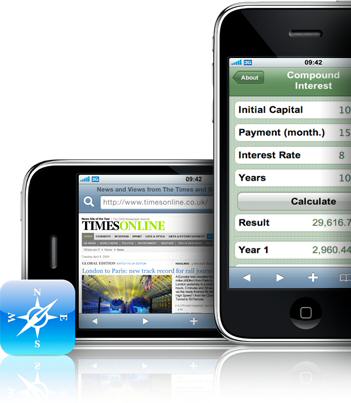 iPhone uses Safari – the most advanced browser on a mobile device – and displays the web the way it was designed to be seen. With support for web standards, SSL, and Cisco IPSec VPN, iPhone delivers secure access to corporate intranets so users can access their company's resources wherever they are. Web Clips give quick, one-tap access from the Home screen to important websites and web applications. And the fastest available connection to the web is always ensured, whether it's EDGE, 3G, or Wi-Fi.
Enterprise applications.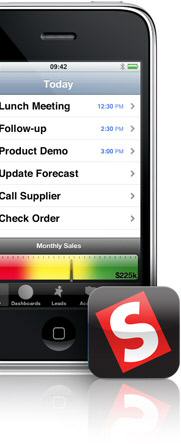 With enterprise applications, iPhone becomes an even more effective productivity tool. Enterprises can easily build their own in-house applications to meet distinct business needs utilising iPhone Multi-Touch technology, the accelerometer, wireless connectivity, and GPS. Or users can simply download commercial applications directly to iPhone from the App Store. Once installed, enterprise applications live side by side with all the great applications that come with every iPhone.
Smarter phone features.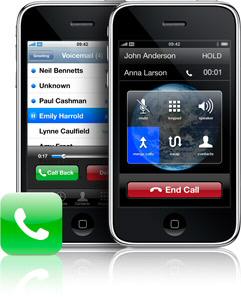 iPhone is a revolutionary phone that also helps manage daily work calls. Visual Voicemail allows users to prioritise which messages to listen to first and fast-track through a message to get to key information. Swapping and merging calls and even initiating conference calls is easy. To add an attendee, just tap a name from a contact list or company Global Address List.
More for business.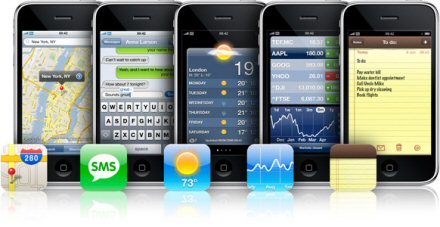 iPhone has even more great features for business users. Find a customer's address and get directions with GPS-powered Maps. Send SMS messages to multiple recipients. Get a one-tap weather report before your next business trip. Check stocks at a glance. Write notes to save or email. Even perform complex calculations with the built-in scientific calculator.
More to come people, we have so much to tell you.