Elite ROM brings Speed boost for the Touch Diamond also new official ROM
Are you experiencing slow performance with your Touch Diamond handset? Some American wish they has that to worry about but with the guys at HTC neglecting to add GSM 850 and HSDPA 850/1900 leaves those over the pond with bigger problems. The rest of those lucky people who can have the Touch Diamond may be interested in the latest to update drop in from the guys over at xda developers.
The "Elite 1.0" ROM image for the HTC Touch Diamond features several tweaks which supposedly streamline things, say bye-bye to Welcome Centre for a start, a newer version of the .NET Compact Framework which allegedly solves the bad performance some reviewer and owners have apparently been complaining about, enabled HSUPA, although this is of course totally unofficial, so be a tad wary when you proceed.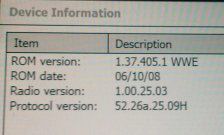 Apparently it appears the HTC Touch Diamond hitting the stores now should have a slightly newer official ROM rather than the build passed out in the first batch of review units. The guys at Coolsmartphones say the new ROM is faster. Maybe not quite as streamlined at the Elite ROM seems to be however, if you are the type of person to stay on the straight and narrow, it would seem HTC has you covered with their official ROM build now coming on the Touch Diamond.
Source — coolsmartphone