MD400 and MD400g HSPA USB modems from Sony Ericsson
Sony Ericsson has unveiled two new HSPA USB modems, the MD400 and GPS, MD400g, the first of their kind from Sony Ericsson as both sticks are also an M2 memory stick and microSD card reader. These HSPA USB modems support 7.2Mb/s download and 2.0Mb/s upload speeds and features an in-built antenna, an innovative additional swivel antenna optimizes the performance when in use.
Marketing director mobile computing at Sony Ericsson, Johan Tysklind says: "The MD400 and MD400g are high performance and stylish devices that enable you to have all your essentials at hand even when you are out of reach from broadband at home or in the office. The USBs are simple, quick to install and the multiple technologies guarantee internet access every time. The combined M2 Memory Stick Micro and the microSD slot really makes these products stand out from the crowd and the MD400g even includes a GPS receiver."

Each USB modem measures 70 x 28 x 15mm and weights 28 grams with HSPA/ UMTS 850/1900/2100 MHz and EDGE/GPRS 850/900/1800/1900MHz. Both are compatible with Microsoft Windows 2000, XP, Vista, and MAC OS X based systems. Auto-installation and auto-configuration, Multi colour LED illumination indicating communication status, supports 25 languages, In-built GPS receiver inc. GPS utility.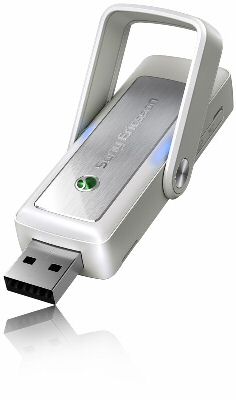 Sony Ericsson says the MD400 and MD400g will become available worldwide sometime in Q4, will be available in Exquisite Ebony, and Lustrous White, but as yet no word on pricing on either.
Source — sonyericsson