Apple iPhone 3G orders increased to 15million in 2008, Mac and iPod increases too
Craig Berger and Robert Pikover, FBR Capital Market analysts, apparently dispatched a note to clients earlier this morning detailing new checks into Apple's supply chains such as Broadcom and Marvel, and here are some key factors that you may find interesting.
Quote: "iPhones: Big positive revisions to 3Q and 2008 build forecast. Our latest checks show forecasted calendar 3Q and 2008 iPhone build volumes have been revised significantly higher, with more than 15 million 3G iPhones plus two million old 2G iPhones forecast for 2008. With about seven million incremental units being built in 3Q versus 2Q, this data clearly has positive implications for iPhone chip suppliers (Broadcom (BRCM), Marvel (MRVL), Infineon (IFX), Skyworks (SWKS)). 2Q build volumes were cut by 25% versus our prior checks in mid-May (now up only 80% QOQ) as Apple pushes production out a bit into 3Q. This 2Q build volume cut only serves to improve the sequential growth prospects for these products in 3Q."
Quote: "iPods: 3Q iPod builds revised higher; 2Q build volumes largely unchanged. Recent checks show Apple's 3Q iPod build volumes were revised up by 15% since our last check and are now set to grow 35% sequentially. Greater Classic and Nano builds are partially offset by fewer Touch builds. 2Q build volumes remain largely unchanged, growing 35% sequentially. We hear a new; lower priced Nano may be coming, as well as refreshed versions of the Touch and Classic. It seems likely that both BRCM and MRVL will have content in the refreshed iPod Touch, though we await firm details on this."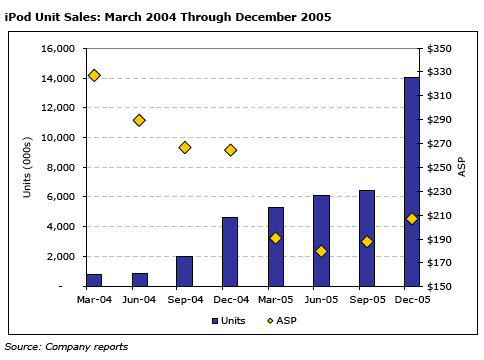 Quote: "PCs: 3Q builds revised higher for both notebook and desktop; 2Q build volumes largely unchanged. Recent checks show Apple's 3Q notebook and desktop build volumes were revised up by 10% and 20%, respectively, since our last check. Notebook and desktop build volumes are now set to grow 35% and 20% QOQ, respectively. For 2Q, we saw a very slight 5%-10% reduction in desktop build volumes, with notebook build volumes stable versus our prior check. Higher 3Q PC builds are a positive for BRCM and MRVL, both firms that have exposure to Apple's PC products."
Apple seem to be continuing to knock the ball out of the field in terms on produce innovation, classy stylish designs, very attractive price tags, and worldwide deployment strategies, and the above quoted check seems to suggest Apple's produced cycle momentum will continue to plough forward at a rate.
Source — macdailynews