O2 Apple iPhone 3G Upgrade Problems, online shop unavailable
Following on from our news we reported earlier titled "Breaking O2 News: Upgrade to New iPhone 3G Online Today for Free" (See Here), we have to report the problems we have had upgrading.
As we said earlier about receiving a text message from O2 reporting that we could upgrade early, prompted us to fill out the online upgrade form. Image below shows a screenshot of the form.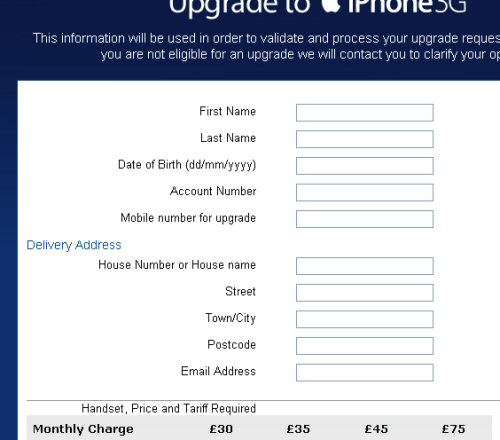 It asks for you to fill out your first name and last name, date of birth and of course your account number, it also asks for the mobile number for upgrade which is basically the mobile phone number you are already using on your existing iPhone, it then asks for your house number or house name, street, town/city, postcode and email address.
Below that it will ask what tariff you wish to have, all you need to do is simply click the desired field.
Well we done all the above and then continued to see a nice message on the screen saying "There has been a problem with taking your order. We apologise for the inconvenience. Please try again."
We want to know if you are having any troubles, please visit https://upgrades.o2.co.uk/failover/index.html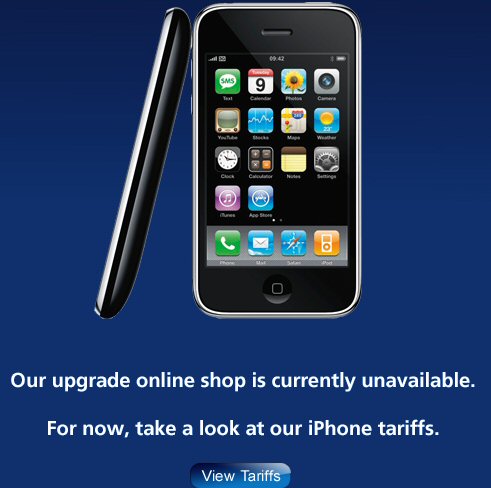 UPDATE: When you click the "Upgrade Now" you will see a page saying "Our upgrade online shop is currently unavailable. For now, take a look at our iPhone tariffs.
So it seems they are having troubles with either the upgrade form, or indeed millions of iPhone 3G fans bombarding them all at once.