MOTOROKR EQ7 and EQ5 Bluetooth portable speakers now available
Motorola Inc has announced availability in the U.S. of their ROKR series potable speakers, the MOTOROKR EQ7 and MOTOROKR EQ5; both offer wireless Bluetooth connection to the user's music and calls.
The EQ7 and EQ5 easily connect with a wide range of Bluetooth or wired devices such as music players and mobile phones. Both speakers offer the user universal compatibility and simple set up.
The MOTOROKR EQ7 brings the user rich, deep audio, while the MOTOROKR EQ5 offers up a stunning design.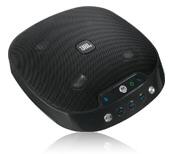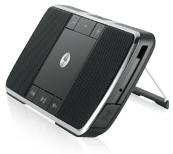 General Manager North America, Motorola Companion Products, Sean Ramsey, says: "Music lovers and mobile consumers can now share and enjoy their music with great portability and rich sound quality. These portable speakers give people two unique ways to enjoy music and hands-free speakerphone calls in innovative style."
The MOTOROKR EQ7 and EQ5 are available from MotoStore online and at electronic retailers with the EQ7 priced at $199.95 and the EQ5 at $119.95
Source — Motorola