New mobile dedicated gaming phone Spice X-1 hits India
Spice Mobiles Limited has unveiled their latest mobile phone offering for India, the Spice X-1 and it looks to have a dedicated gaming console aboard; something that may be the reason Sony Ericsson is so interested in acquiring Spice Mobiles.
The Spice X-1 has been clearly designed to appeal to the younger audience who are greatly into the mobile gaming scene, thus the dedicated gaming console.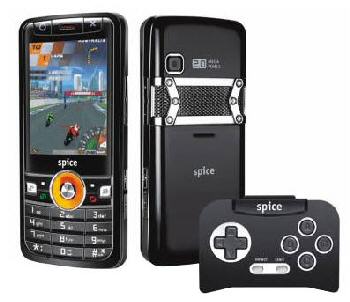 What else spec wise does the Spice X-1 offer up to the user? Well the Spice X-1 features a 2.4 inch screen, Bluetooth, FM radio with record and play feature, 2 megapixel camera, and the good old microSD expansion slot.
As the Spice X-1 is a dedicated gaming mobile phone it also boasts a good quality sound system thanks mostly to the Yamaha amplified 3D surround sound tech along with those great dedicated gaming keys much like the Sony Ericsson F305.
Just so you know, the Spice X-1 comes with pre-installed games and Opera Mini, and is now available in India as a price of Rs8899 that's about $210.00
Source — unwiredview