Could a conceptual mobile phone be any cuter?
Cute yes, convenient, probably not, practical, doubtful, that's my view of the Kuma Phone, a conceptual mobile phone by Willcom shown off in Japan that pulls on the cuteness of the much loved Teddy Bear and by all accounts the attendance fell in love with it.
The conceptual Kuma Teddy Bear mobile phone is GSM and able to hold up to four speed dial numbers, answerer and end calls with a push of the teddies tail, and apparently has a vibration function.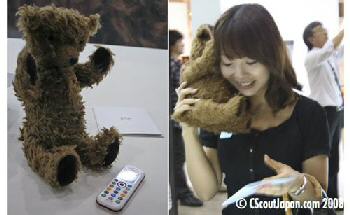 According to an accompanying pamphlet reckons it will carry a price around $500 if it every gets mass produced.
Source — textually via engadget