Insight into BlackBerry's Research in Motion (RIMM) stock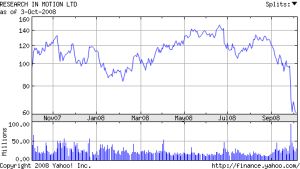 Research in Motion (RIM) who are the brains behind the BlackBerry handset are pretty much the king of the smartphone market, so with the Storm, BlackBerry's first addition to the touchscreen market being release anytime now, RIMM stocks are one to keep a very close eye on.
As RIM churn out new products all with fantastic features, the BlackBerry has become not only a phone for business users but a phone for anyone. It recently doubled its global market share to 17.4 percent.
As RIM goes head-to-head with Apple, one advantage it has is its positioning in the enterprise segment with its killer push mail application. Not forgetting that RIM is the second best worldwide operating system. However as you can see by the graph, this is another handset stock that has taken a hammering, although with the launch of the long awaited Storm and more availability of the Bold we thing this could change quiet rapidly.
Source: SeekingAlpha