Motorola Krave ZN4 to hit Verizon on 14th October
Probably the closest thing the Americans will get to a MING is about to grace Verizon Wireless, in fact it's the Motorola Krave ZN4 and will be hitting Verizon Wireless come October 14th.
For those who wish to acquire the Motorola Krave ZN4 clamshell Verizon will have it available without contract for the price of $349.99. However, should you require the Krave ZN4 for a little less Verizon will have it for $149.99 with a two year contract and after a $50.00 rebate, while a one year will set you back $269.99.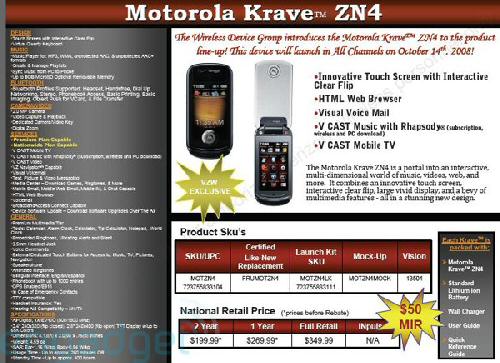 The Motorola Krave ZN4 is an innovative touch-screen clamshell with an interactive clear flip with V Cast mobile TV and V Cast Music with Rhapsody via subscription.
Source — Engadget