Could the KS500 be LGs latest step with Windows Mobile?
Roughly one and a half years ago LG released the LG KS20 mobile handset, and in the world of Windows Mobile LG became a little silent. However, the FCC and the GCF have both recently approved a new mobile phone from LG known as the LG KS500.
If you are a follower of LG's naming game there is a possibility that the LG KS500 may just be the Windows Mobile successor of the LG KS200, conversely the LG KS500 could well be LG's Android handset.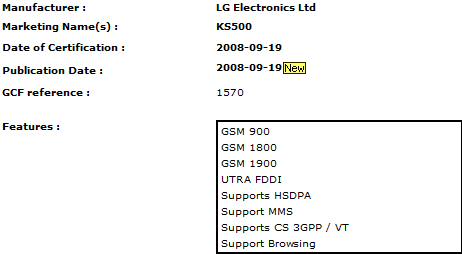 There isn't a great deal of information available on the LG KS500 yet but the GCF has unveiled that it is quad-band GSM/GPRS/EDGE and single-band UMTS/HSDPA, and the FCC confirms there is Bluetooth.
Source — the::unwired