Verizon Wireless add 3 cents to every content text message
Verizon Wireless is adding 3 cents to every mobile terminated message processed on its network as of November the 1st. This move by Verizon Wireless could set a new major precedent in the text messaging service.
Mobile terminated messages include interactive voice notifications; SMS search responses, and text alerts. This new 3 cents fee is in addition to the current mobile terminated fees and applies to both standard and premium rate programs.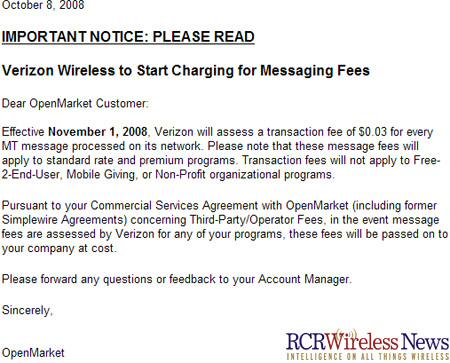 This new charge is sure to outrage mobile players who use mobile terminated messages to deliver real-time news, sports updates, text-search results, horoscopes and other information. Countless companies may be affected by the new charge, Google Inc, 4INFO, ChaCha, CNN, ESPN, Cellfire, to name only a few.
Source — rcrwireless