KDDI transmits mobile phone stored image to e-paper
KDDI R&D Laboratories Inc has made a prototype "Portable Viewer System," that wirelessly transmits images which are store on a mobile phone, and can display those images on a 13.1 inch colour electronic paper display.
This new system transmits an image using infrared and beams it onto an electronic paper display, while the display has just a single power button as all other commands are made via the mobile phone.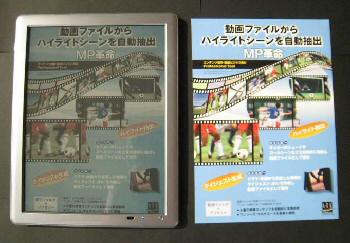 KDDI R&D Laboratories Inc developed this new system believing it could be used to display a virtually full-scale A4 pamphlet whilst ensuring high security via using mobile phones functions such as remote data deletion and remote lock.
Source — techon