The RIM BlackBerry Storm gets pictured
The guys over at Intomobile have posted some cool images of the BlackBerry Storm. They managed to get their hands on a Verizon Wireless version of Research In Motion's latest baby the BlackBerry Storm while at the BlackBerry Developer Conference in California.
The BlackBerry Storm seems to be a tad smaller than the BlackBerry Bold, and the Storm follows the BlackBerry Pearl Flip by incorporating a microSD slot.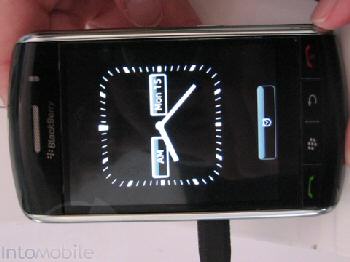 As for the operating system, it is still somewhat beta but there are a few more recent versions, and Research In Motion is clearly working hard to iron out the bumps and bugs so that there is something reasonably stable for that much rumoured release in November.
Source — intomobile