Sony Ericsson begins FanWalk 08 to MTV Music Awards
On October 29th one hundred music fans embarked on the biggest FanWalk in history, which is the Sony Ericcson FanWalk to the MTV Europe Music Awards 2008. The FanWalk will cover 400 kilometres from London to Liverpool between October 29th to November 6th and to arrive at the MTV Europe Music Awards.
One hundred music fans were selected from three thousand applicants who went through a vigorous casting stage to locate the most passionate, creative, and dedicated music fans available.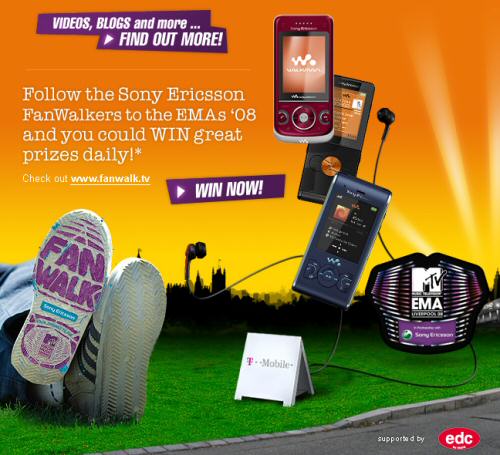 One lucky FanWalker will receive the opportunity to go on stage at the MTV Europe Music Awards to present an award to one of the famous music acts.
Got to give it to Sony Ericsson for being extremely inventive with marketing campaigns as I'm sure the media exposure will be immense.
Source — intomobile