LG Mobile Design Contest winners shown at Tokyo Designers Week
During the Tokyo Designers Week event, LG Japan displayed the winning concept phones of their Mobile Design Contest. The overall winning phone concept was the "Planet Phone," which is a concept that takes its inspiration from the planet, and thus was a circular smooth finish clamshell mobile handset.
The "Planet Phone" has LED lights embedded in its top that represent the users friends and the more the users stays in touch with their friends the more the lights remain in the centre.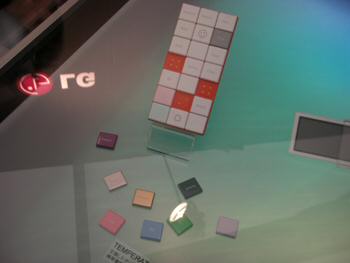 Runner up concept phone was the Temperature Phone, which again works with the "friends" concept but this time has tiles that can be removed from the phone and handed to friends with your name on it and you replace the tile with a tile from their phone to create a unique design mobile phone, and behind each tile is an LED which glows according to the temperature of the place where your friend is located.
Source — pcworld