Apple iPhone 3.0 Chip and key component supplier breakdown
Every fancied knowing just who supplies the components for the Apple iPhone 3.0? Well DigiTimes has managed to find out via industry sources just who supplies what.
It appears that Samsung and Toshiba will supply the NAND memory, with Samsung supplying the mobile DDR DRAM while Infineon will supply the baseband and A-GPS.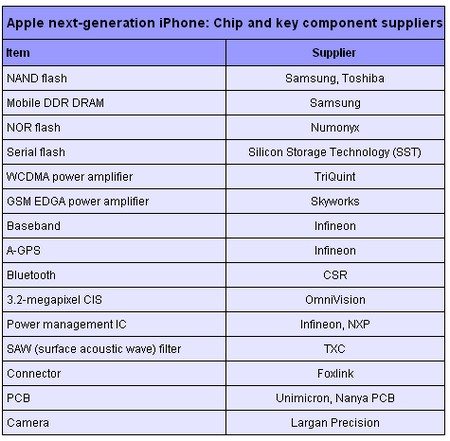 Taiwan Semiconductor has landed the order for GSM EDGE power amplifiers; OmniVision will supply the 3.2 megapixel camera. The Apple iPhone 3.0 is expected to launch sometime around mid year, and assembly suppliers will begin shipping as of May.