Apple iPhone Apps: Leaf Trombone World Stage
Smule has just released the all new Leaf Trombone World Stage Apple iPhone app, this is a massive multi-player musical game for the iPhone and of course the iPod Touch.
We all know that Ocarina is huge and now Smule wishes to take it further when it comes to taking iPhone-as-instrument concept to a whole new level, this all new Leaf Trombone World Stage will allow you to learn an instrument, judge fellow players, perform it for people around the world, compose and publish your own work.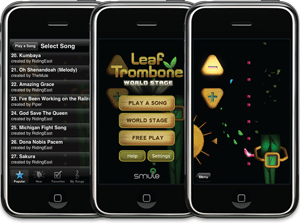 Leaf Trombone World Stage includes new, never-seen-before iPhone features, such as: Self tutorial — a music box accompanies users as leaves softly float toward the correct notes, enabling users to learn the song, simply by following the leaves on the screen and moving the Leaf Trombone up and down; similar in concept to Guitar Hero, Judging capabilities: Anyone can perform a tune on the Leaf Trombone before a global audience, this iPhone app is awesome.
Once a player has submitted a song to the World Stage, self-appointed judges, randomly selected from anywhere in the world, providing an instant critique of the performance, using a combination of emoticons and text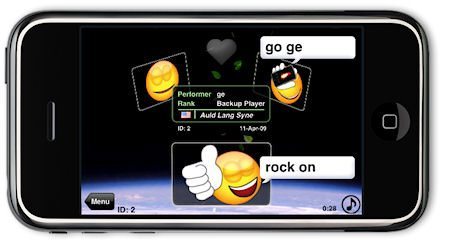 Judges can rate each performance using a 1-10 scale. The evaluation is then added to player's standings and the players rank is updated
Other Features Include:
Sophisticated browser-based composition tool provides unlimited new music
A new interactive learning tool enabling anyone to compose and create music for the Leaf Trombone

This is the sixth in a series of innovative applications from Smule (www.smule.com), based on the developer's innovative mobile audio platform. It is now available now on Apple's AppStore for $0.99 — Check out the awesome video below of Leaf Trombone in action, why not check out the hot to play as well here.