Verizon BlackBerry Tour July 12th Pre-order Page now live
If you are waiting to order the BlackBerry Tour on Verizon Wireless then you may like to know that Verizon has now replaced their BlackBerry Tour teaser page with a pre-order page.
The Verizon BlackBerry Tour pre-order page now gives us confirmation of the BlackBerry Tour being available as of July the 12th for purchase both online and in stores and commands a price tag of $199.99.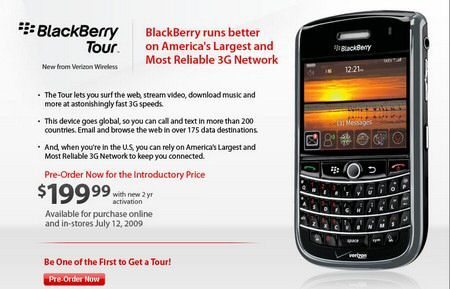 So if you want to grab a BlackBerry Tour with Verizon now is the time to get in your pre-order or maybe you'll wait for the Tour to hit Sprint on their rumoured release date of July the 20th.