BlackBerry Tour Verizon version for $99 on Amazon
If you are looking for a reasonably cheap costing BlackBerry Tour smartphone then just pop over to Amazon as according to an article on pdablast, Amazon are now offering the latest Research In Motion BlackBerry Tour on Verizon for only $99 with a service plan.
However, if you would rather have the BlackBerry Tour without a service plan then Amazon will sell the smartphone to you for $499.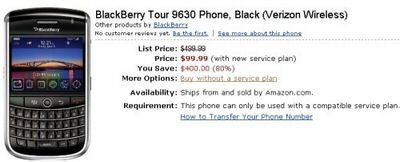 Spec reminder for the BlackBerry Tour… fully QWERTY keyboard, 3G world phone, 3.2 megapixel camera, V Cast music and video via EV-DO data network, GPS, Bluetooth, microSD expansion up to 16GB.