HTC Hero European Release moved back?
There now seems to be a delay in launching the HTC Hero in Europe as engadget mobile reports that Amazon UK has now pushed back the HTC Hero release date from the 15th to the 24th of July.
No word on just why the HTC Hero release has been shoved back a few days, but another website has stated via their Twitter account that they will not hold stoke of the HTC Hero until August.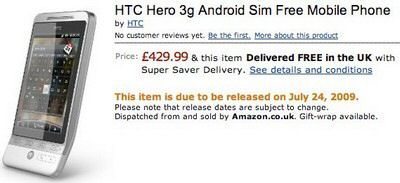 Looks like most in Europe will simply have to wait a while longer to get their hands on the latest Android packing HTC device.