Nokia applies for Cseries and Xseries trademarks
According to an article over on digitoday, mobile phone manufacturer Nokia has now applied for trademarks for Cseries and Xseries which means a new line of possible smartphones are on their way.
The addition of the new Nokia Cseries and Xseries will undoubtedly compliment Nikia's existing lines the Nseries and E series.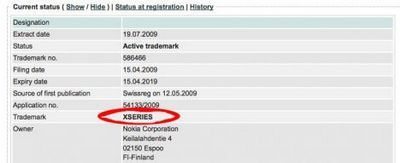 Apparently the new Xseries trademark was applied for in Switzerland and the information was found via the European Union's Office for Harmonisation in the Internal Market database, however, the exact plans for the Nokia Cseries and Xseries is not yet known.