T-Mobile Holiday Pricing gets spotted
As the Holiday season is virtually upon us, so the mobile phone prices begin to drop in an attempt to grab a nice large bundle of everyone's holiday spending cash, and the guys over at tmonews seem to have got hold of T-Mobile's holiday pricing.
According to the leaked T-Mobile list, the Motorola CLIQ will be discounted $50 along with the BlackBerry Bold 9700 and the Samsung Highlight while the Sony Ericsson Equinox Black will get $25 off, and there's quite a few more besides.
Of course this is rumour at the moment as T-Mobile hasn't confirmed the pricing list below, but it does look like all discounts will come off both T-Mobile Even More and Even More Plus Plans.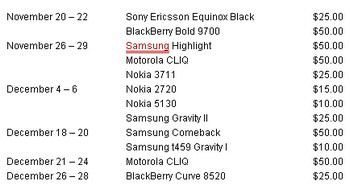 So if you are a T-Mobile faithful looking for that new handset, or maybe thinking about going with T-Mobile it looks like the holiday season is the time to jump aboard and grab a bargain.