BlackBerry OS 6.0 Detailed and Pictured
We get some insight to what Research In Motion is offering with their new BlackBerry OS 6.0 today courtesy of the guys over at the boy genius report who have managed to grab hold of several screenshots and comes up with quite a few details.
The gained access to the new BlackBerry operating system via one of their AT&T sources thus were able to get the screenshots and info first hand and features a new browser, new favourites, tab switching and even multitouch, and apparently there is also a redone media player.
What they found out was Research In Motion has implemented system wide kinetic scrolling with "rubberbanding" which makes the experience a tad more fluid when scrolling though emails, webpages and such, and there is also system wide multitouch with pinch and zoom.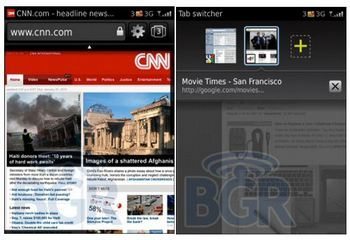 RIM has also made the BlackBerry OS 6.0, which we posted on a while ago; homescreen totally customisable with pages and there is modal popups with gestures whereby if you tap and hold a nine icon group appears centred on the screen which is pretty much a context menu.
Photo apps that they saw resembled the iPhone layout being large tiled square photos which show in thumbnail with small borders and images appear on screen instantly. They say the UI is nice with clean gradients and modern web 2.0 feel while composing email seems to be more straightforward.
As for a release of BlackBerry OS 6.0, they say they have been informed that BlackBerry OS 6.0 should see the light of day sometime in June or July.