BlackBerry 9670 and BlackBerry Atlas 8980 Get Pictured
Obviously at the moment the new BlackBerry Bold 9650 and BlackBerry Pearl 3G, which is gaining global release in May, are grabbing all the headlines in BlackBerry land, but there are a couple of other BlackBerry smartphones churning around the rumour wagon.
Today the guys over at crackberry come up with a few new pictures of both the BlackBerry 9670 and the BlackBerry Atlas 9880 smartphones curtsey of crackberry forums member B.I.G.G.I.E.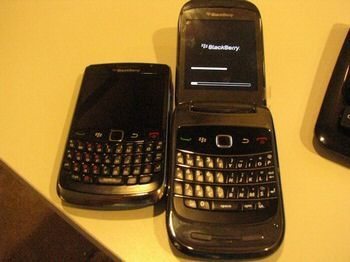 Unfortunately though there's not a great deal to get all excited about other than both BlackBerry smartphones being shot from more angles with a little more insight spec wise.
Apparently the BlackBerry 9670 clamshell will sport BlackBerry OS 6.0 along with a 5 megapixel camera, and rumour has it that this particular BlackBerry is being made by Research In Motion exclusively for the Big Red.
As for the BlackBerry Atlas, its former number was BlackBerry 8910 but has now been changed to Blackberry 8980, other than that there's not a lot to learn, but as soon as we hear more we'll pass it along.