Android Motorola MB520 Kobe Could be Diablo Gets Pictured
A little while back a new Android device from the Motorola camp broke cover, the Motorola MB520 Kobe, well now several images of the device have made their way onto the net waves, although somewhat blurry.
The new pictures come from Chris Ziegler over at Engadget, and he says that the Motorola MB520 Kobe may also carry a codename of "Diablo," so could come out to play as the Motorola Diablo when it hits AT&T shelves at some stage although that hasn't been confirmed.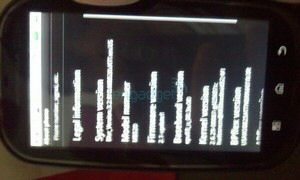 The device is definitely destined for the Big Blue waves and will pack Android 2.1, although according to their tipster will receive an OTA update to Android 2.2 Froyo, and also has MotorBlur as the device has the Blur logo on its rear.
Whether the Motorola Kobe/Diablo will be able to stand up to the might of other Motorola Android devices such as the Droid X and Droid 2 remains to be seen, but it seems to be a way into an Android AT&T partnership for Motorola.