HTC Lexikon Verizon Froyo 2.2 Droid Smartphone: Specifications
The next Verizon Droid smartphone is called the HTC Lexikon and we have some specifications for you, which we hope you will like.
The HTC Lexikon that we found via Android Guys looks very nice indeed and it features a 3.8-inch display with WVGA (480×800 resolution, 512MB RAM, MSM7630 chipset, Android Froyo 2.2, 800Mhz speed, 5-megapixel camera, HTC Sense 1.6, 4GB internal memory and QWERTY keyboard.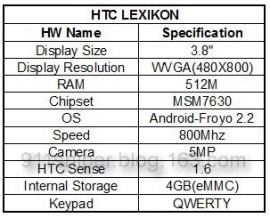 We would like to know if you think it looks like the HTC Incredible, is the image above final screenshot of the HTC Lexikon Droid phone?
Just so you know Droid-Life also has the RUU (HTC leaked ROM), which you can download from here: Good luck trying to understand it though, let us know how you get on.