NFL 2011 Free iPhone App: Football Game
Got an Apple iPhone and want a fantastic football game to play for free, well how about an app called 'NFL 2011'?
NFL 2011 has been optimized for the iPhone 4 and the retina display will give you pure quality in gameplay and of course graphics pleasure, this new app has better graphics and many cool features and you can try it out for free, yes nothing at all. This is iPhone apps at its best and we know football fans will love it.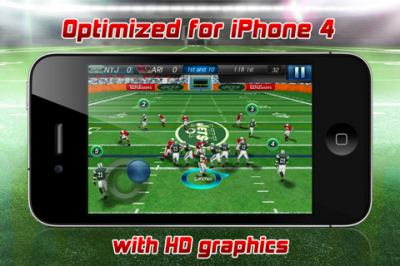 Main Features Include: Official NFL and NFL PLAYERS license brings every team and over 2,000 players to manage and control, New and even more intuitive controls for running, tackling, An impressive level of animation detail and realism for players thanks to motion capture, Thanks to the official NFL RSS feed, always keep in touch with news about your favorite NFL sports team and last but not least endless tactical options thanks to the Playbook Editor or the over 200 plays already available.
For more information please head on over to iTunes, if you have this app already please send in your personal reviews.