LG HBM-235 Bluetooth 3.0 Headset: NewEgg Only 99-Cents
Would you like to save a lot of money? How about a sleek Bluetooth Headset for only 99 cents, yes a cool product for under a dollar? Of course you would.
Thanks to the 2010 specials you can now visit NewEgg and bag yourself a cool LG HBM-235 Bluetooth 3.0 Headset for the above price, normal list price was $49.99 with a NewEgg sale of only $20.99.
Well that price of $20.99 goes right down to 99 cents with the $20 Mail-in Rebate, oh what a bargain that should not be missed.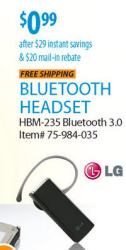 This headset will give you 13-hours of talk time and features multi-point connectivity, unique 'Click' button design, LED light and built in DSP for noise reduction and echo cancellation. For more information please visit NewEgg.
Source & Image via bfads.net