Christmas Edition Weather HD iOS App with Holiday Themes
The Weather HD app has now been updated to the Christmas Edition and looks much better than it ever did before, it has be re-invented just for you this holiday season.
Weather HD is so popular that it is the number 1 weather application in the US and 51 other countries, it has been recommended by big sites such as Macworld, The New York Times and Gizmodo plus many more.
New features added to the Christmas Edition of Weather HD includes themes for the holiday season with all new videos, this new edition will be enabled by default but can be switched to standard edition within the settings area.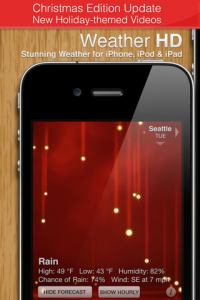 If you have the iPhone or iPad that you should definitely give this app a go as we know you will not be disappointed, you can navigate between cities by simply using the arrows at the top right, if you swipe left and right in the middle of the screen it will navigate you forward and backward.
Other Main Features Include: See forecasts, Watch videos, Add and delete cities, Clock, Show and Hide the chance of rain, Pressure and Visibility from the "Display Settings".
For more information about Weather HD Christmas Edition please visit iTunes, if you already own this app please do let us know what you think of it. Please watch the YouTube video below of this app in action via vimovcom