Nokia N9 Dumped Due to New Smartphone or Tablet?
Apparently the Nokia N9 has been consigned to the trashcan; the MeeGo sporting smartphone is dead and buried despite Eldar Murtazin claiming the Nokia N9 was a nearly perfect device, and the rumour is the Nokia N9 may have been replace by an unknown smartphone or even a MeeGo tablet.
According to an article over on Ubergizmo, Nokia know all Eldar Murtazin has used his Twitter accoung to tweet…" @kopte3 n9-00 is canceled. Other phone in development. Nokia is killing herself"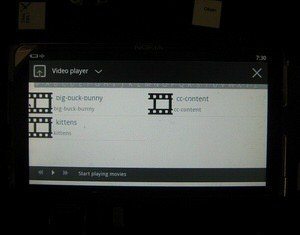 Although there's no official word on what this new device is but an article over on Engadget shows an image of what could be a new MeeGo tablet, which came to light on the mobile-review forums, which happens to be Eldar Murtazin's site.
No doubt if the image is indeed a Nokia branded MeeGo packing tablet then Nokia just might come across with some detail during Mobile World Congress 2011 in Barcelona next month and hopefully Nokia will come clean as to whether the Nokia N9 has been canned.