Motorola Atrix 4G Disassembled In Teardown
As with most new devices sooner or later someone digs deep inside, rips the device apart and puts it on display, and now this has happened with the new Android 2.2 Froyo packing Motorola Atrix 4G, a little sooner than expected no doubt as the device only went on sale recently.
Anyway according to an article over on Ubergizmo, he guys how usually do this kind of stuff, iFixit, have now completed a teardown of the Motorola Atrix 4G revealing all its internals for the viewing public.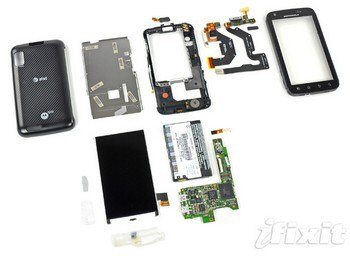 Apparently the guys did note that there isn't much of any real interest inside the Android device other than that the glass panel isn't glued in so replacing should be a breeze and that the device packs a Qualcomm MDM6200 HSPA+ chip.
The guys also state that the Motorola Atrix 4G should be an easy smartphone to repair should you accidentally break the thing, but other than that apparently there's nothing to shout about.
The Motorola Atrix 4G teardown is accompanied by the usual guide on how the guys went about doing so, along with several images of the stages which can be view by checking out their website. Of course we do remind you not to try the same with your own Motorola Atrix 4G.