HTC Thunderbolt Now Confusion Over Price
By now if all things were equal in the world potential customers for the HTC Thunderbolt would have their hands on the device, but as everyone is aware the HTC Thunderbolt has still not been released without any real concrete word as to why, although battery life has been rumoured.
However just because the device isn't out doesn't stop the HTC Thunderbolt being touted as according to an article over on Phandroid and by way of Droid-life, Best Buy is still touting an ad for the HTC Thunderbolt, although the advert ads more confusion over the handset.
Apparently a weekly Best Buy advertising flyer touts the HTC Thunderbolt for sale at $299.99 based on a 2-year agreement; however, apparently the in-store display for the HTC Thunderbolt shows an asking price of $249.99, so some discrepancy there for some strange reason.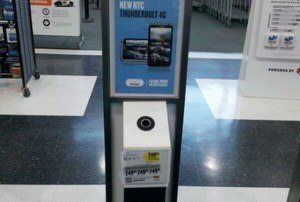 So it would appear that not only does no one have any idea when the HTC Thunderbolt will see the light of day, we now have no real idea as to what the Android 2.2 Froyo smartphone will actually cost, just yet another bit of confusion in the HTC Thunderbolt fiasco.