Five Noteworthy Casual Games for iPhone / iPad
Have only 10 minutes to spare during office coffee break, or returning home on public transport? Need to quickly get positive emotions before diving into work? Best way to keep entertained is to play a casual game.
Comparing with complex hardcore games, casual ones do not require special skills or long — time commitment. The game rules are so simple that you can start playing immediately. Whatever type or genre a casual game is, it features an intuitive interface and social elements as a rule.
Statistics shows that a casual game is the biggest and the most popular section of iPhone/iPad games Apps. People who play casual games are older than traditional computer gamers and more than 70% of casual players are women. Casual gamers do not regard themselves to gamers or game addictive.
Five iPhone/iPad casual games listed below represent different types, graphic styles and game logic. However all of them are highly entertaining, quality and noteworthy!
Netwalk — an addictive puzzle game that is easy to start and hard to stop. In this game you are a network administrator, and someone has scrambled your network. Your job is to rotate all the pieces so that every computer is connected to the server by cables and there are no lose ends in your network. Of course, the less work you need to do to complete your network the better. The higher level you choose the bigger net size you get to fix: with Beginner being 4×4, Medium 6×6, and Expert 6×6 with the added difficulty that connections can wrap from left to right and from top to bottom.
Enigmo Deluxe is the new iPad-enhanced version of an award winning game Enigmo. It is a 3D puzzle game where you direct animated streams of flowing liquid so that the droplets get to their destination. You move and rotate various types of bumpers, sliders, accelerators, and sponges in order to divert the flow of the falling droplets. The faster you complete each of the 50 levels, the more bonus points you receive.
By sharing your level packs with other users via the File Sharing in iTunes, you can get level packs for iPhone, Mac, and PC version of Enigmo and vice-versa!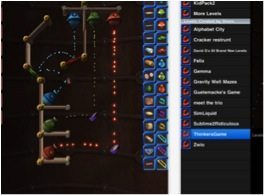 Osmos for iPad has been featured by Apple as "iPad Game of the Year" in 2010. Design of the game is thoughtful and intuitive. Features include multitouch: pinch, tap, flick; dynamic time warping: slow and speed the time; eight level types. It's a game you must experience to appreciate. It's worth trying indeed!
Veggie Samurai – Veggie Samurai is an addictive, pickup-and-play action game. You have two modes to choose from: Samurai and Harmony Modes, slicing and dicing skill will help you to skyrocket your score and take over each veggie that comes your way!
Flight Control HD – You're an air traffic controller at an increasingly busy airport. You task is to put each aircraft to their landing zones. But it is not as easy as it sounds! You can play this game online (up to five players), share your landing duties with a friend and see what score you can reach together or play the game on one iPad using its multitouch feature.