HTC Incredible 2 Price: Releases Today
Great news for those that have been awaiting the release of the HTC Incredible 2, your patience has been rewarded with a release of the device today.
On April 14th, 2011, we reported on the HTC Incredible 2 being a world phone (aka 'global roaming' device) after a leaked sign was posted on the net. Therefore, there is a possibility that we could soon be seeing this smartphone going global.
Now in an article by TheDroidGuy coming to us via Droid-Life it would appear that the Verizon price of the HTC Incredible 2 has dropped quite a bit, this could be due to the elimination of 1-year contracts. However, Big Red has denied any connection between the price drop and contracts.
So the 'DROID' Incredible 2 is launching today with a price tag of just $439 with no contract and $199.99 on a 2-year contract, according to the employee flyer below.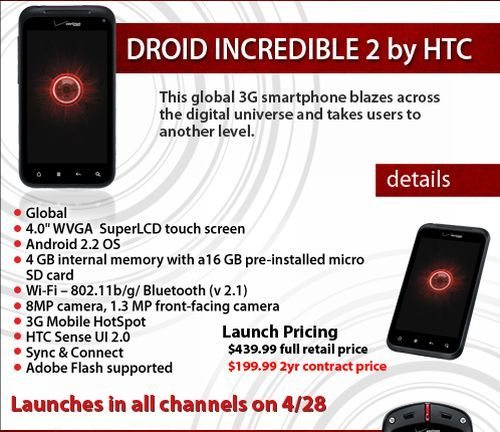 Whilst, many of us were not pleased at seeing the 1-year contracts taken away, there is a light at the end of the tunnel if this new pricing structure is anything to go by. While there may only be two options when purchasing a phone, it is good to see Big Red is prepared to meet us somewhere in the middle.
So please let us know what you think of the HTC Incredible 2, and whether you will be purchasing the device.