Apple iPad and Android Apps Coming from The Guardian
For Apple iPad and Android device owners in the United Kingdom whose preferred way of receiving the latest news is by way of The Guardian, the newspaper has announced that they have a new Apple iPad app to play nice alongside The Guardian's iPhone app and a new Android app on its way.
According to the guys over at Cnet, The Guardian has posted some info on their website letting everyone know that the Android and iOS tablet app will be coming at some point in the future and apparently the Guardian for iPad app will come with a free trial on launch.
The new Guardian app for iPad will be subscription based just like their iPhone app and according to the article on The Guardian…" Rather than simply replicate the newspaper design for iPad, this project has provided an opportunity for us to redesign the newspaper exclusively in tablet form. The app will deliver a single daily edition of content, specifically curated for iPad."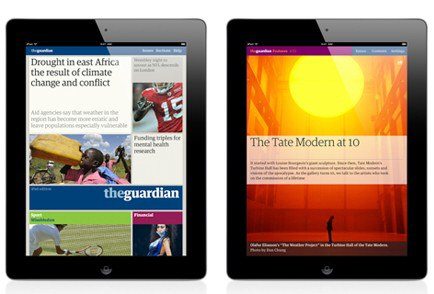 As for Android, the official Guardian Android app is scheduled for launch in the autumn and will apparently deliver an array of content and features and will be "truly Android native," no word on what the subscription costs for the Android version will be yet though.
However it appears that The Guardian isn't halting at just iOS and Android as they are to launch something called Guardian Zeitgeist, a brand new product especially for the webOS HP TouchPad tablet, although no other details on this new product have been released.
But to kick things off, The Guardian have released a Kindle app for Kindle users of course that delivers content from both The Guardian and Observer newspapers, and is available in the United Kingdom and United States along with over 100 other countries.
The Kindle app is available as of right now to download from Amazon UK and commands a subscription cost of 99p per issues or £10 per month and includes VAT and free wireless delivery via Amazon Whispernet.
So there you go, if you enjoy The Guardian as your daily content fix, you will soon be able to grab apps for both the Apple iPad and Android, or if you are a Kindle user you can grab the app right now. Any of our readers already use the Guardian iPhone app and waiting for the iPad version?