Droid Bionic 4G LTE Speed, Battery Life & Mets Game
The Motorola Droid Bionic is getting a lot of attention lately, and today the goodness is getting better. The world's first dual-core 4G LTE smartphone is capable of superb download speeds and the battery life is better than expected.
The Droid Bionic has been tested and thanks to a leak by someone called Yoda via Phandroid all the chitchat about this mobile device is living up to all expectations. This handset manages an amazing 15 hours of battery life with moderate usage and please, correct me if we are wrong, but no other 4G LTE smartphone is capable of this.
The massive battery life will be what customers want and we can see the Verizon Droid Bionic selling very fast the day it is released to customers.
The download and upload speeds of 4G LTE network is brilliant, the image shows the handset being tested on SpeedTest.net Android app, the results show that the Motorola Droid Bionic is getting Ping 48ms / Download 20349kbps / Upload 5502kbps, we tested our iPhone 4 and that gets 54 / 9402 / 446 respective, but then this is in the UK on O2 and using a different WiFi connection.
The question we would like to ask is "What will you be choosing to buy given the choice between the Droid Bionic or the LTE Galaxy S II?"
Whilst on the subject of Droid Bionic we visited Android Central and found something really interesting, the Mets game was on Tuesday and someone called Christopher (aka Jet300) via the AC Forums announced 24,619 at Citi Field in Queens that the Mets won 5-4 and that the new Motorola Droid Bionic was all over the place.
The photo below shows the Droid Bionic playing an ad behind some plastic screen, it was advertising the stadiums own Verizon hangout. Looking good Mr. Droid Bionic.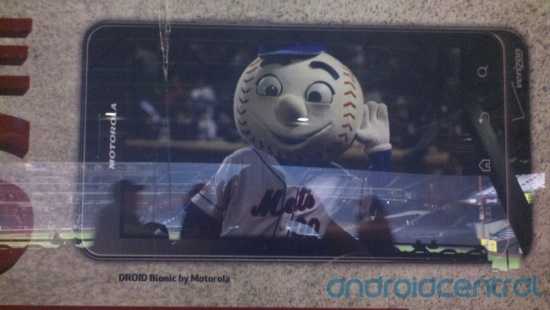 Keep coming back to Phones Review because we will be bring you much more news covering this smartphone, and trust us you really do not want to miss out. Whilst we wait for more information please do use the commenting area and let us know what you think of the above news, are you looking forward to the official release?