Droid HD release date on Verizon soon, features
The Motorola Droid HD release date on Verizon is getting closer; the latest news shows that this smartphone has shown up on the Cellebrite system.
The Droid HD is now showing in the Verizon device manager, if you look at the screenshot below you will notice the Motorola Droid HD features, these include battery charger time, voice activation, video streaming, 4g, mobile messaging, Bluetooth, mobile web, voice memo, push-to-talk, it also shows that it is NOT a global phone.
Other features on the screenshot shows that the Motorola Droid HD will have picture calling ID, of course we will let you know more about the full specifications, features, release dates and prices as soon as we know.
But looking at the features in the screenshot below at least we know it is most definitely a 4G LTE. It would be great to see this smartphone being a global phone, as many of you would prefer this.
Information on the Droid HD is scarce; when this handset is released to the public will it be called the Motorola Droid HD or something completely different like the Spyder?
Please do have you say in the commenting area provided below, and of course if you know anything at all about the Droid HD please do let us know about it. Thanks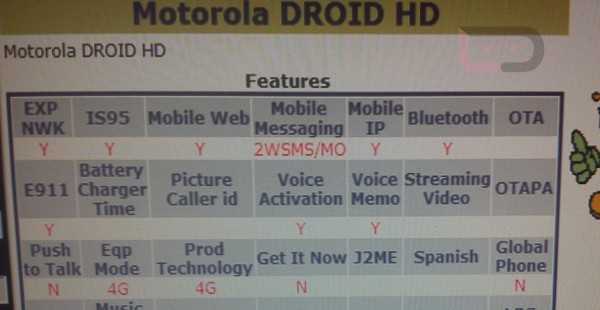 Source – Droid-Life