iPhone 5 (GS) email scam warning: Do Not Launch
We are putting out an iPhone 5 (S), email scam warning out to all our readers, if you receive an email and open you will be prompted to open a file called iphone5.gif.exe, which is via an hacked server comiali.com.
The email basically lets you know what the next iPhone will look like, if you click on the links you will get directed to the infected files. If you look at the advertisement below it shows the iPhone 5G S and that it will be available this Friday.
When the email is opened it will allow behind the scenes IRC bot based on mIRC, this will connect to an IRC server at 94.125.182.255 (ircu.atw.hu) according to F-Secure.
The malware within contains text saying "I wanna be a billionaire so frickin bad!" If you open the file you are at risk of your files be stolen or even deleted, you may possibly get bullied by the cyber bully as well.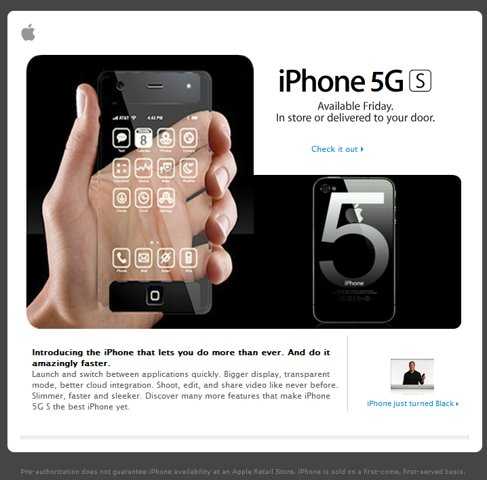 The file is not what you call sophisticated, which means it can be deleted with ease, just remember not to open such files. Only open emails if you think they are legit, unless you want to experience problems.
The Apple "Let's Talk iPhone" event kicks of today and we will be covering all the news; stay with us and that way you know you are safe.
If you have come across this iPhone 5 email scam please do let us know if you were infected. Stay with us all day for all the latest news via the Apple event of the year.