Best Under $50 Deal: Motorola Atrix 2 (4G) with Amazon Wireless
The Motorola Atrix 2 (4G) Android smartphone is still very popular with its users, and we have something to share with you if you are a new customer.
AT&T have an amazing line up of many smartphones on the cheap, and we would like to share with you today's best under $50 deal for the Motorola Atrix 2 (4G) with, Amazon Wireless.
If you are a new customer, and you do not mind signing up to a 2-year contract, then read on for the money saving deal.
The only downside to this deal is that if you are an existing customer you miss out, below we have listed the specifications recap, is this the sort of Android phone you would like to own?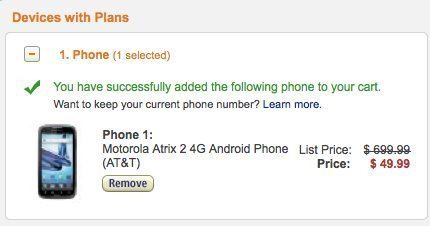 Main Specs Include: 1 GHz dual-core processor, 4G HSPA+ 21 Mbps, 1 GB RAM, 2 GB microSD card, which is expandable to 32GB, 8 GB ROM, Android 2.3 Gingerbread operating system, as well as 4.3-inch qHD 960 x 540 TFT display with 500,000 pixels, 8MP camera and LED flash, Front-facing camera, 1080p HD video recording, it also comes with 30 frames per second playback, On Device Encryption (ODE) and Enhanced Exchange ActiveSync (EAS) and much more.
Once again, please do let us know if this is an amazing deal that you may opt for?